Mo'mix Business Intelligence Center V7 Offers Pre-Built Integration to PeopleSoft and EBS and Simplifies Reporting
PRESS RELEASE
UPDATED: OCT 23, 2018 10:00 EDT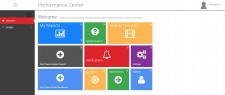 AUSTIN, Texas, October 23, 2018 (Newswire.com) –Mo'mix Solutions is excited to announce that Mo'mix Business Intelligence Center v7 is now available. While still supporting pre-built integration with PeopleSoft and EBS, Mo'mix Solutions has enhanced self-service capabilities with user-driven dashboards, drill downs, and more impactful visualizations with interactive reporting. These innovative product enhancements enable robust data management, empowering users to quickly and simply access data, all while reducing IT Report requests and ERP licensing fees. For on-premise ERP systems moving to the cloud, clients can now house both historical data and cloud data in Mo'mix Performance Center Business Intelligence.
The Mo'mix Business Intelligence Center strives to make the complex simple by eliminating the need for clients to maintain specialized skills in BI Publisher, Discoverer, SQR, nVision, and PS Query tools through the deployment of easy to use analyzers and interactive reports. The data sources have pre-built joins for displaying the data in a logical and cross-functional manner, thereby ensuring every user can drag and drop data for their report without compromising the expected end-result. Regardless of skill set, Intelligence Center provides ease of use and accurate reporting for any user.
The Mo'mix Performance Center Suite of applications extends beyond intelligence and reporting. The product suite includes Budget Planning and Management with reporting and constituent Transparency to share, visualize and communicate with a community.
Too good to be true? Find out now and request a demo for any one or all products.
Mo'mix Solutions
Nichole Medina, nmedina@momixsolutions.com
Austin, TX
1-888-752-5701
info@momixsolutions.com
www.momixsolutions.com
Source: Mo'mix Solutions